Evolving Customer Self-Service - From Modern IVR to Digital Self-Service
'Let me do it' consumers want to get things done at their convenience – dictating the 'when, where and how' of communicating with organizations.
Give consumers the power of personalized, continuous, context-aware dialogs across channels (IVR, Messaging/Chatbot, Mobile, Web) and interactions (informational and transactional), even when moving from self-service to live agent assistance.
Need a More Cost-efficient Way to Build and Maintain IVR Applications While Getting Ready for Chatbots and AI?
To many contact centers and customer care teams, the IVR system still feels like a black box that is hard to maintain. Many solutions are so dependent on the vendors that even simple prompt changes are lengthy and expensive efforts.
With Aspect® CXP Pro™, it's easy to implement and maintain personalized IVR that has a big positive impact on first-contact resolution rates – freeing up your contact center agents to address more complex problems. We call it Modern IVR, helping companies to exploit the full set of IVR capabilities.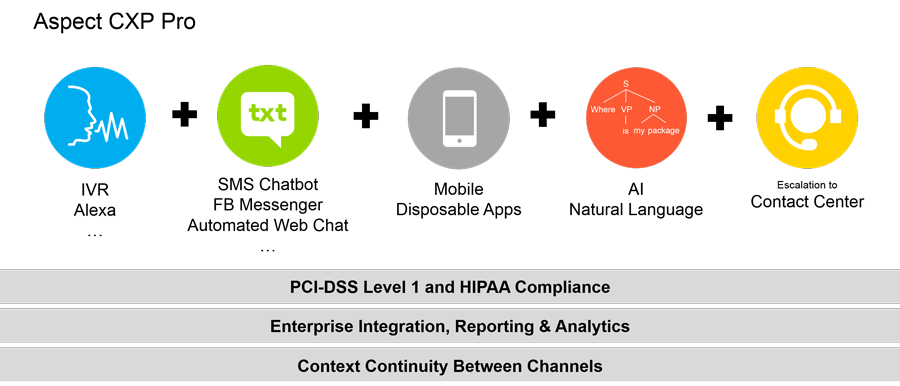 A Full Suite of Tools
Aspect CXP delivers all the tools you need to design, develop, document, test, deploy, report on and analyze your self-service applications. Aspect CXP self-service applications are 100% portable and operate seamlessly with our own premise and cloud solutions, but can also be used alongside other contact center platforms.
Furthermore, you can keep using your existing VoiceXML-based IVR platforms such as GVP or AVP and leverage Aspect CXP as the overlaying application server.
Key components:
- CXP Server: Runtime Java Application Server
- CXP Continuity Server: DB with REST API or Context Continuity
- CXP Designer/Developer: Business User and Developer IDE for dialog creation
- CXP Business User Interface (BUI): Business-facing Web portal for easy IVR configuration
- CXP Commander: System administration made easy
- CXP Analyzer: Enterprise Business Intelligence with 50+ prebuilt reports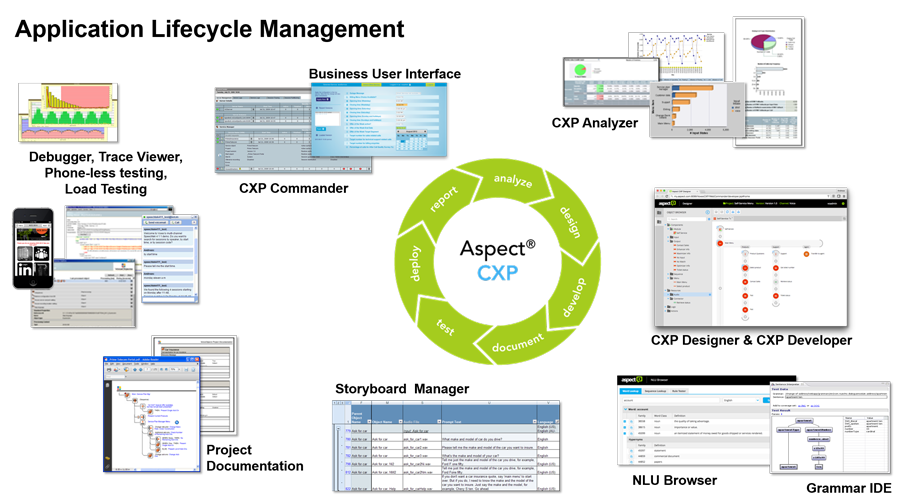 CXP + Prophecy = Aspect CXP Pro – A Match Made in Heaven
Our Aspect CXP Pro package combines the powerful application lifecycle management tools in Aspect CXP with our industry-leading, carrier-grade Aspect® Prophecy™ IVR and telephony platform for the delivery of your IVR and call control applications. You can deploy on-premises, in the Aspect Cloud, hosted, or in a hybrid fashion.
Self-service applications developed with Aspect CXP integrate with all Aspect contact center solutions - including Aspect® Unified IP®, Aspect® Zipwire® and Aspect Via™ Customer Engagement Center™ – and with third party contact solutions including those from including those from Avaya, Genesys and Interactive Intelligence.